Your Guide To Finding Catchy Music School Names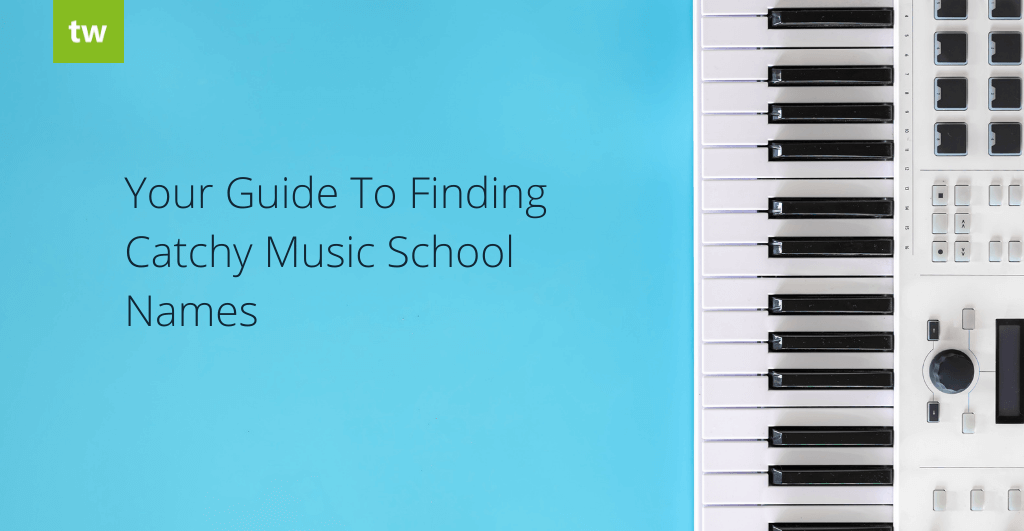 Coming up with possible music school names for your new business can be a daunting task, but it's definitely worth it to spend time on choosing a great name that will make you stand out from the crowd.
Fortunately, there are plenty of free tools and techniques that you can use to make the naming process easy. In this article, we'll share some free tools and techniques with you.
Good music school names are:
Concise, unique, and easy to remember
Catchy, but not unprofessional or confusing
Related to the services you offer
Not deceptive (if you're a one-person operation, don't make it sound like a large organization)
Include common keywords that people may search when they are looking for a music school/studio or teacher in their area
Breaking down a music school name
New business names typically consist of two parts:
A unique word/phrase that distinguishes them from competitors
A descriptive word/phrase that provides insight into what the business offers
Choosing a music studio name that includes both of these parts is highly recommended in the beginning as it will help people to make the link between your business name and the services you offer.
Having just a unique word/phrase might not tell people what you do, so they might look elsewhere for music teachers. As your business grows and becomes more well-known, the descriptive part of your music studio name will become less important because people will already know what you offer.
In the sections below, we'll look at a few different techniques to come up with the unique and descriptive parts of a business name.
1. The unique part
Below are 5 techniques that you can use to come up with the unique part of your music school's name:
Aspirational Words
Students typically sign up for music lessons to learn a new instrument/skill or to improve their current level of expertise. Words related to success and improvement can be an effective naming method since they will resonate with your prospective students.
Some examples: Maestro, Pro, Master, Expert, Advanced, Ace, Elevate, Premiere.
If you use this technique, be aware that other music schools and studios may be attracted to the same type of names. Get creative and make use of interesting combinations and synonyms to give your band a competitive edge. Websites like thesaurus.com are helpful for finding synonyms to help the creative process.
Geography
Making a reference to the geographical area you operate in can be an effective approach depending on your long term goals. Prospective students will immediately know which market you serve and will feel at ease about trying out your services.
If you're based in a city such as Burlington for example, you could include this in your music school name. If you want to go even narrower, you could focus on a specific neighbourhood such as Aldershot or LaSelle.
Your long term goals should be a big consideration for this technique as it could become a limitation if you plan to expand your business to other markets.
Value Proposition
What makes your music school/studio unique? Incorporating your value proposition is another effective method to try. Prospective students will naturally associate your brand with the value you add.
The words can be related to your teaching style, where you teach, the subject you teach or the skill level you teach.
Subject Specific Terms
If your music school/studio will focus on a specific instrument or skill set, this technique can be a great choice. Aside from referencing specific instruments or talents, you could also use names of famous historical musicians and composers (depending on copyright laws of course). Using popular music terms such as "Allegro" or "Adante" (for beginners) is also a good option to try.
Personal Name
If you are well known in the music industry or you have lots of content and videos online that show off your skills, this technique is definitely worth a shot. Prospective students will be able to find a lot of favourable information about you with a quick Google search.
2. The descriptive part
The descriptive part of music school names describe exactly what businesses offer. It can include words such as "learning", "mentoring", "coaching", "music lessons", "instructors" etc.
As your music school grows and becomes more successful, this part will become less important since people will already be familiar with your services. However, initially, it provides prospective students with the context they need to choose your music school.
3. Deciding on a name for your music school or studio
In the sections above, we looked at some techniques for choosing unique and descriptive words/phrases for a business name. Now it's time to decide on a name for your music school.
A good approach is to open up a spreadsheet and add 3 columns to it. In the first column, jot down unique words and phrases. In the second column, record descriptive words. In the third column, combine column 1 and 2 to come up with several combinations. You will not like all of the names you come up with initially, but don't be too critical just yet. Make a big list and proceed from there.
Once you've created a master list of music school/studio names, start running through and narrow down the list to your favourite (around 15 should be a good number to work with). Research each of the names to make sure that you can use them for your business. At this point, you'll also want to check if the domain is available for your future website. If it's not available, you can get creative with action words. For example, if the music school name is "Sharp Music" you can try startsharpmusic.com or makesharpmusic.com.
To narrow down your list to a single name, you may want to ask friends and family for their input. Ask which names they like best and what thoughts the name evoke in their mind. Tally up the results and then select a winner.
Some More Inspiration
Music School Name Generator:
Coming up with a list of names for your music school is no easy task, but there are free tools that can help simplify the naming process.
Teachworks offers a free-to-use music school name generator that you can access here: Teachworks Music School Name Generator. Simply click the "Generate Name" button until you see something you like.
Some catchy music school name ideas:
Scale Music School
Breakthrough Music
Octave Music Academy
Talent Music Instructors
Harmony Institute
Percussion Music Studio
Excel Studio
Alto Studio
Pitch Music School
Voice Music Mentors
When you're just starting your music school, you'll probably be able to manage admin with spreadsheets, email and free calendars (such as Google Calendar). As your business grows however, it might become increasingly difficult to juggle all the admin effectively.
When you get to this point, you may want to look into music school management software such as Teachworks to streamline your day to day admin.
Start your free 3-week trial today!