Adding a Login Form to Your Website
When creating a Teachworks account, you are prompted to enter a subdomain. The subdomain forms part of your company login page and will look something like this: yourcompany.teachworks.com.
Some companies may prefer to have clients and employees login to Teachworks directly from their website. In this case, you can use our Remote Login Add-on to add a login form to your website.
In this article we'll talk about configuring the login form and adding it to your Website. We'll also include instructions for popular website builders including WordPress, Wix and Squarespace.
Configuring the Login Form for your website
You can enable the Remote Login Add-on from the Integrations & Add-ons page. Once enabled, you can click the "Settings" link to start customizing the form for your website.
You can customize the following visually:
The colour of the "Login" button as well as the text that appears on the button.
The colour of links – these are links that appear at the bottom of the form that allow users to reset their password or request a new confirmation email.
Labels on/off – you can display field labels or hide them.
The Remote Login Add-on also lets you set a return URL. This URL will bring users back to the page where you've placed the login form in case they have entered an invalid username or password.
To make the customization process as easy as possible, the add-on displays a preview of what the end result will look like based on your settings.
Adding the Login Form to Your Website
Once you are happy with the look and feel of the login form, you can add it to your website by pasting the "Login Form Script" snippet in your website's HTML code.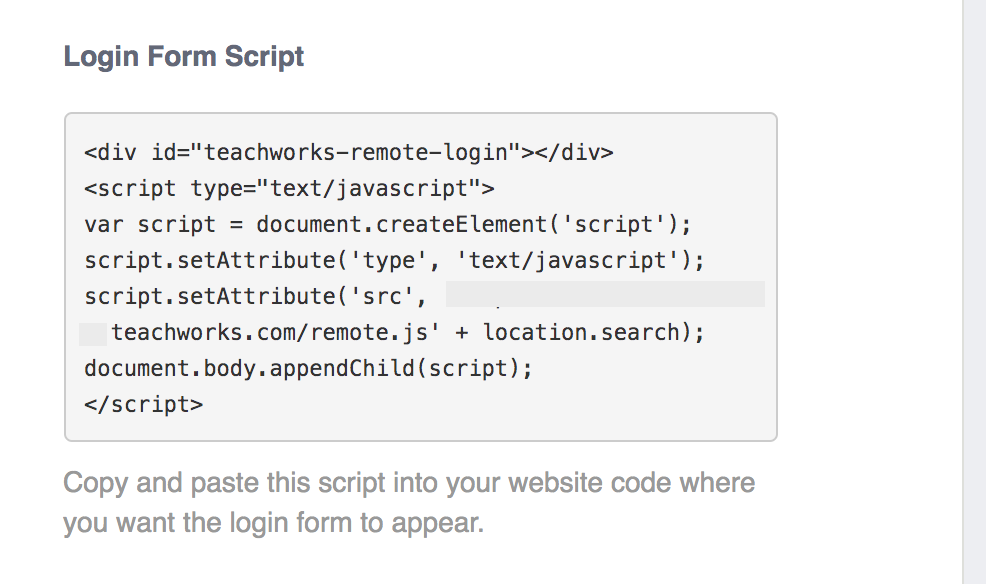 If your website is custom, you can pass this on to your website developer to add for you.
If you've created your own website using a website builder like WordPress, Wix or Squarespace, you can find some steps below:
Interested in using the Remote Login Add-on for your business? You can find detailed steps on using this feature on our Knowledge Base: Remote Login Add-on
---
Looking for tutor management software to streamline and automate your website? Try Teachworks' free 3-week trial with full feature access today!