Reduce Your Workload with The Task Manager Add-on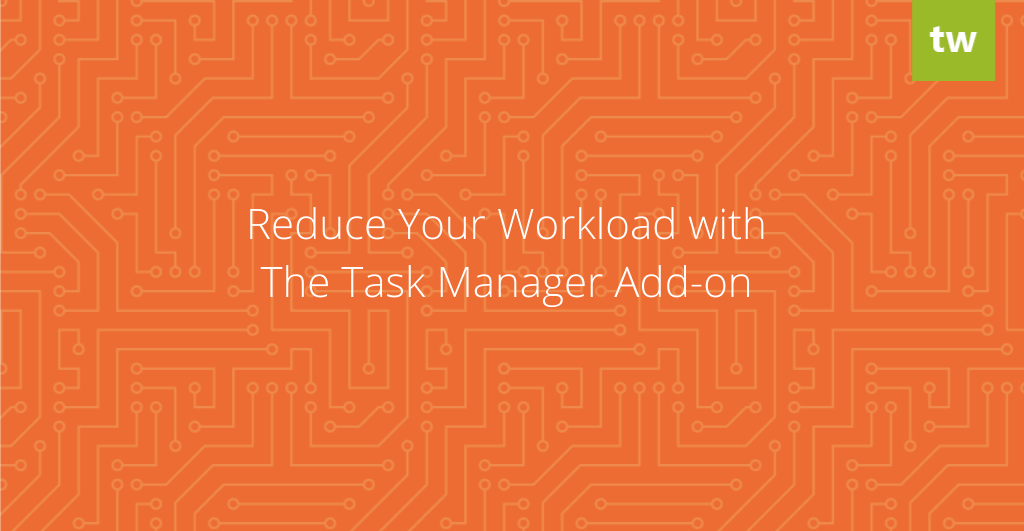 As your tutoring business grows in size, it can be difficult to keep on top of all the tasks and responsibilities that need to be completed daily. Delegating your workload to your teachers can help you stay organized, boost your productivity, and make running your company more manageable.
With Teachworks' Task Manager Add-on, you can easily delegate tasks to employees and stay on top of their progress to ensure everything gets completed. To learn more about this useful feature, keep reading below!
What is Teachworks' Task Manager Add-on?
The Task Manager Add-on is a feature that allows you to add and manage tasks set for employees within your Teachworks account. With this add-on enabled, you can create tasks with specified due dates, and delegate them to your team.
Easily manage these tasks by checking their statuses, updating them as they progress, and emailing assigned teachers to ensure no deadlines are overlooked or missed.
Benefits of the Task Manager Add-on
Teachworks Task Manager Add-on has many advantages for both tutoring administrators and teachers. Below are two of the major benefits:
Stay Organized
When tasks have been assigned to your teachers, you can easily keep track of their progress in real time all through the "Upcoming Tasks" and "Overdue Tasks" Dashboard Widgets as well as through the Tasks table.
Likewise, when your teachers sign into their user account, they can access and keep track of their tasks in list format under their own "Tasks" tab. This ensures that everyone stays organized and on the same page at all times.
Delegate Effectively
Assigning tasks to your teachers is easy and doesn't take much time to do. With these additional duties delegated to your teachers, you can free up more time in your schedule to prioritize more important, specialized tasks related to growing your tutoring business.
You can even save more time by having Staff with the correct permissions create, delegate, and manage tasks as well.
Monitor Progress
Teachers and staff can update the status of their tasks which provides them with an easy and efficient way to keep you up-to-date on their progress. This also provides you with an efficient way to quickly check on the status of tasks and proactively deal with any tasks that are getting off track.
Enabling the Task Manager:
You can easily enable the Task Manager Add-on in a few simple steps. Follow below for instructions.
Go to the Account & Settings tab
Scroll down to Integrations & Add-ons
Find the Task Manager Add-on and select "Enable"
Once you've enabled the Task Manager, a "Tasks" tab will appear under your Employees tab in Teachworks.
Creating a Task:
When you're ready to create and assign tasks for your team, you can…
Select the "Tasks" option under your Employees tab.
Click the "Add Task" option within the sidebar.
Complete the needed fields on the task form, including the title, description, due date, priority, and assigned employees.
You can also send employees an email to notify them of the assigned task by checking the "Send Email" checkbox.
Submit the form when completed.
NOTE: You can include multiple employees on the same task, but track each of their progress individually. 
Viewing & Managing Tasks
There are a couple ways to view and manage assigned tasks within Teachworks.
Dashboard Widgets
You and your teachers can take advantage of the Upcoming and Overdue Tasks Widgets available on the Teachworks Dashboard. To enable these within your account, select the dashboard settings icon
and select "Enable" beside the widgets.
To set these within employees' profiles, click "Employee Default Widgets" and check off the corresponding widgets and submit.
Tasks Tab
Once you've assigned tasks to your staff, you can view their status within the "Tasks" page. Here, you can toggle the settings to include your preferred date range, task status (assigned, in-progress, completed, uncompleted, & all), and filter by task or staff member.
Task Permissions for Staff
Not only can administrators create and assign tasks for staff, with the right permissions, your staff can also create tasks for employees. This is helpful if you have additional administrators helping you with managerial responsibilities.
You can give a staff member permission to assign tasks by following the steps below:
Go to the staff members profile.
Select "Edit" beside the staff member's name.
Scroll down to "User Access & Permissions".
Beside "Tasks" toggle the selection to "Manage"
Submit the form.
Conclusion
Managing a busy tutoring business is hard work, and as your business grows keeping track of tasks and delegating become more important. The Task Manager add-on is one tool that can help you stay on top of tasks and delegate more work to your team, which will make your life easier and make your business more successful.
Teachworks is an online tutoring software that helps you to be more efficient and organized while running your busy tutoring company. With features like the Task Manager Add-on, you can start streamlining your administrative tasks. See for yourself and try our free trial today! No credit card required.