Online Lessons With Teachworks
Online lessons are becoming an increasingly popular method of providing teaching services. Developing quality online services can help your teaching business reach more clients and schedule more lessons, which is why it's important for your business to make online lessons simple and engaging for your clients and teachers.
Teachworks' Lessonspace Integration offers a simple way to connect your teachers and students to an interactive learning space for individual and group lessons. However, Teachworks also has a few simple tools that will simplify booking online lessons and getting teachers connected with clients, regardless of the online learning platform you use. The goal of this article is to simplify how you can integrate with any online learning space you choose.
There are a number of free online learning platforms you can use to build a partial integration with Teachworks. This article will focus on integrating with Zoom, but you may want to investigate other options (i.e. Scribblar, BitPaper, GoToMeeting, etc.) before deciding which option is best for your business. The steps in this article are applicable to any online learning platform if you have access to a URL to your online meeting space.
Signing Up For Zoom
You can register for a free Zoom account by going to zoom.us and clicking the "Sign Up, It's Free" link. A Zoom account has a single online meeting room, so if you'll need additional rooms you will need to subscribe to "Zoom Rooms" or create more than one Zoom account (you'll need multiple unique email addresses) you can use to schedule lessons.
Getting Your Meeting Room URL
You'll need the URL for your online meeting space so you can set up a simple way to access this space from your Teachworks account. You can find your online meeting room URL in the "Personal Meeting ID" section of your Zoom account.
Adjusting Your Settings In Zoom
You may want to spend some time reviewing and adjusting the default settings in your Zoom account. You can adjust the settings for your Zoom online meeting space by logging in to your account and clicking the "Settings" link in the left sidebar. You can then adjust your settings so the user experience for your teachers and clients will be tailored to your business' specific requirements.
Connecting Zoom To Teachworks
Now that you have set up your Zoom account and have the URL to your online meeting space, connecting your Teachworks account to that online meeting space requires only a few simple steps:
1. Enable the Location Links Add-On in your Teachworks Account by going to Account & Settings > Integrations & Add-Ons > Location Links > Enable. This Add-On allows you to display a location name as a link to a web address; in this case, your online meeting space.
2. Add your online meeting space as a location in your Teachworks account. You can do this by going to Account & Settings > Locations > Add Location. You can name the online learning space location and enter the URL from your Zoom account in the "Link" field.
3. Display Conflicts Setting – It may be a good idea to check the "Display Conflicts" box before saving the form. If you check this box, you can use the Conflict Checker when scheduling lessons to ensure that there aren't any other lessons scheduled using the online learning space that will conflict with your newly scheduled lesson. This is especially important if you only have a few (or one) online meeting rooms that you use for online lessons.

4. When scheduling a lesson in Teachworks, select the online lesson space as the location on the Schedule Lesson Form. A link to the online learning space will appear on pages where there is a reference to the location of the lesson. This includes in the Calendar if you click the "View" link in the Lesson Pop-Up Window, in Lesson Reminder Emails, on the Locations Page, and on the Lesson History/Lesson History by Student page if you click on the lesson title.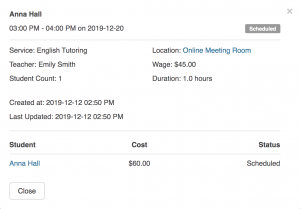 Conclusion
To stay competitive as the demand for online business increases, your teaching business will need to provide quality online services that are easy-to-access and engaging for both clients and tutors.
Teachworks' Location Links Add-On can help you simplify the process of scheduling online lessons by easily providing teachers and clients with direct links to their online meeting spaces, allowing your business a simple solution to the challenge of developing a platform for conducting online lessons.