Sending Invoices From Teachworks To Xero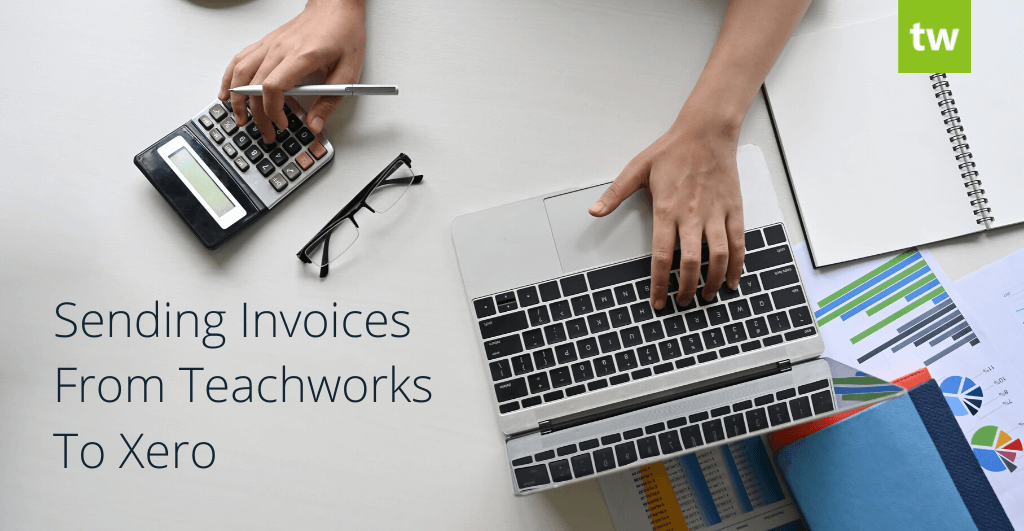 Many tutoring businesses, music schools, and test prep companies use Teachworks' direct integration with QuickBooks Online accounting software to manage their books, but it's now easier than ever to use an alternative accounting software program thanks to Teachworks' new Zapier Integration. You can easily build an integration with accounting software programs like Xero and Wave to manage invoicing, payments, customers, and more in just a few simple steps.
About Zapier
If you're new to Zapier, you may want to check out some of the resources in this post about how to Automatically Record PayPal Payments in Teachworks. In the"Connecting To Zapier" section you'll find articles about registering for an account with Zapier, connecting your Teachworks account to Zapier, and a post from Zapier explaining some common terminology used when building Zaps.
Automatically Get Invoices From Teachworks to Xero
This post is going to describe the steps for setting up a Zap that automatically replicates invoices from Teachworks in Xero accounting software.
The example is going to use an "Approved" invoice from Teachworks, but it's also possible to create the same Zap using invoices that are "Saved." Creating this Zap to send "Saved" invoices from Teachworks to Xero would be a good idea if you want to send invoices to clients using Xero (i.e. Xero's payment processing options).
Overview of the Zap
To connect Teachworks to Xero your Zap will include the following trigger and action:
A trigger is what initiates the rest of your Zap. The trigger we're going to use in this example is a New Invoice being created in Teachworks with it's status set to "Approved."
An Action that creates an invoice in Xero that matches the one you've created in Teachworks.
1. The Trigger – Create An Invoice In Teachworks
A Zap is set into motion when the trigger event occurs. In this case, the trigger event is going to be creating an invoice and setting it's status to "Approved" (again, the same Zap can be set up using "Saved" invoices instead).
After signing in to Zapier, click the "Make a Zap" button in the top right corner of the page.
In the "When This Happens…" field find and select "Teachworks."
In the "Choose Trigger Event" field find and select "New Invoice."
It should look like this:
When selecting your account in the next step, choose "Teachworks." If you have more than one Teachworks account, be sure to select the correct account. Click Continue when you've selected the correct account.
Next, in the "Customize Invoice" section, you can select the invoice status that initiates your Zap. This is where you select whether you want the invoice created in Xero if it's status is set to "Saved" or "Approved" in Teachworks. Remember that you can only choose one status, so if you plan to use multiple invoice statuses in Teachworks you'll need to create an additional Zap for these invoices if you want to automatically recreate them in Xero.
When you've selected the status you want to use, click Continue.
2. Create a Sales Invoice in Xero
To complete your Zap you'll need to add a trigger event that creates a sales invoice in Xero.
In the next block, find and select "Xero" in the Choose App field.
In the "Choose Action Event" field find and select "Create Sales Invoice."
Next, you'll need to connect your Xero account to Zapier by following the steps in the "Choose Account" field.
Once you've done that the final step is to customize the details that are included on the invoice when it's created in Xero. In the first section, the only required fields are the customer's name. You can select the customer's first and last names in the "Contact Name" field, separated by a space. All of the other fields in this section are optional and dependent on what information you want transferred to your invoices when they're created in Xero.
Below is a screenshot that includes the customer's name and the invoice due date:
The second portion of this section is used to fill in the invoice details that ensure the line items, descriptions, and totals match up when you send your invoices from Teachworks to Xero.
This is what the section should look like:
Similar to the above section, the fields that I've completed are only the required fields. You can include other information if it's relevant or necessary for your business' needs.
Once you've done that you can click "Test & Continue." If everything matches up an invoice will be created in Xero using the information you've entered while completing the Zap. All invoices created in Teachworks with the status you've selected will be sent to Xero automatically once you turn the Zap "On."
One Last Note About Managing Your Books
Remember that Teachworks integrates directly with QuickBooks Online Accounting Software, which will significantly reduce the amount of time you spend managing the books for your teaching business. The steps described above are only necessary if your business' needs require the use of a different accounting software program.
If you're interested in testing out the Zapier Integration for yourself, you can click the button below to sign up for a free trial today.